4.6 star rating
21 Reviews
Does the job 👍🏽
Review by Rebecca H. on 8 Jul 2022
review stating Does the job 👍🏽
I bought the scalp scrub from the website amongst other things as I recently found out I had hard water. I couldn't seem to get rid of my dry scalp no matter what product I used. I would definitely recommend this product and it smells great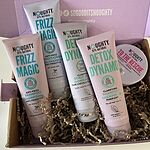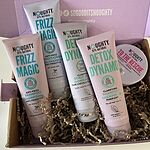 Absolutely brilliant!
Review by Shannon P. on 1 Nov 2022
review stating Absolutely brilliant!
Absolutely brilliant product that works really well for my hair and scalp. I've only used it twice so far but have enjoyed it both times. It smells really similar to the detox dynamo shampoo. I have used both of them together (one after the other) which I think works really well (for me atleast).
Hmm ok
Review by Josh W. on 7 Sep 2022
review stating Hmm ok
Didn't really feel much difference to the scalp… it is gentle on the hair tho
Comments by Store Owner on Review by Josh W. on 7 Sep 2022
Hi Josh,
Thank you for your review!
I'm sorry you haven't found this product makes much of a difference yet. It's the same reasoning as the shampoo, you just have to use the product for about 8 washes to get your hair used to the product and after that you should start to see those desired results.
Here is another link to the transitioning stage blog post, and if you have any more questions, please do contact us at
hello@lovenoughty.co.uk
Transitioning To Natural Haircare – Noughty UK (
lovenoughty.co.uk
)
Love Noughty x
My scalp and hair felt
Review by Sarah S. on 2 Sep 2022
review stating My scalp and hair felt
My scalp and hair felt amazing and the smell is very nice and refreshing. I will definitely be ordering again.
New user
Review by Moira E. on 28 Aug 2022
review stating New user
New user.. impressed so far